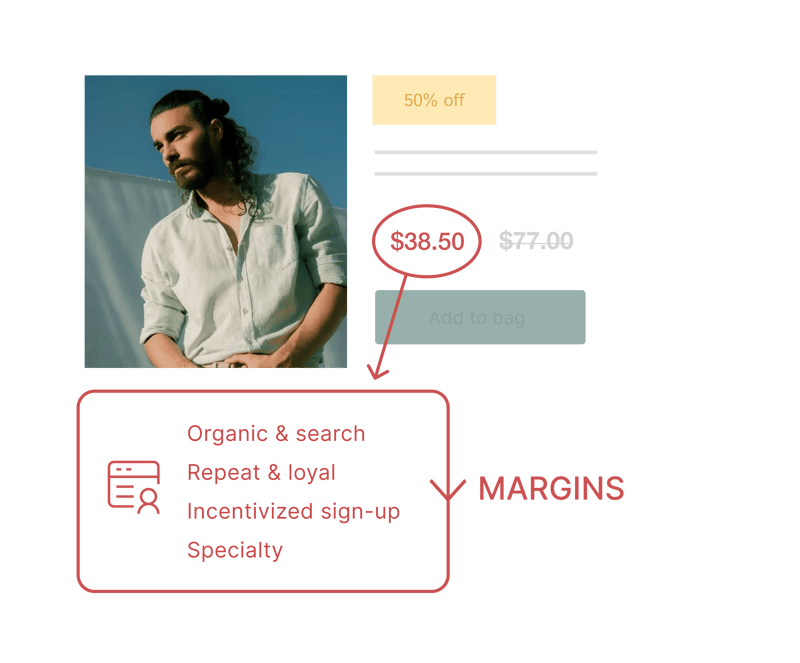 Do all customers need discounts?
Target promotions and gate redemption
Promotions given to traffic who would've paid full price fuels hasty behavior, which leads to —
🗑️ increased returns

👎 destroyed margins

🪧 cannabilized campaigns

🧏🏻 diluted promotion potency

📊 confused attribution
Instead of giving promotions to all traffic, leverage their power to convert those targeted by your marketing dollars.
Promotions for 80+ ad channels, email & influencer campaigns
Screenshots convert your mid-funnel
99% of consumers aren't ready to purchase upon impression. Particularly your mid-funnel.
Use screenshots to align promotional campaigns with purchase intent whenever it spikes after impression.
Guidelines for marketing, creative, and agency teams provided on platform.
Redemption by uploading screenshots gives you:
Get 2 simple steps to prevent returns & increase sales
Implement for free. Instant results.
Simple and actionable steps based on the behavior of today's e-commerce consumer.